SAFE & NATURAL: Made from pure and natural ingredients without the use of harsh chemicals and toxic antiperspirants. Paraben, SLS and Aluminum Free, biodegradable, never tested on animals. Safe and beneficial for irritated, inflamed, and sensitive skin.
HIGHLY EFFECTIVE FORMULA:All day protection and wetness relief. Our vegetable protein formula neutralizes the enzymes that cause odor to simple salt. The powerful natural ingredients used offer an all day odor protection. Great for men, women and teens.
UNSCENTED & REFRESHING: The gentle formula made from vegetable protein and natural extracts is light and safe for all skin types including sensitive skin. Our natural deodorant is nourishing and conditioning without the use of harmful and concerning antiperspirant chemicals. Provides all day freshness.
NEW ENVIRONMENTAL FRIENDLY PACKAGING: The push pop biodegradable deodorant tubes are a new product technology that doesn't have the retracting functionality that a plastic tube does but it's a small price to pay for making less plastic waste.
100% SATISFACTION GUARANTEE: We are confident in the quality and results of our products, there is no secret here, we are transparent about our ingredients and manufacturing practices. Our products are non-toxic and cruelty free. We care about our customers and are devoted to providing an excellent service being available 24/7 to answer any questions or concerns you may have. However, if for any reason you are not satisfied, we will provide you with a refund.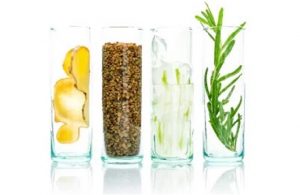 Castor Oil
Castor oil can help lock moisture in the skin and is rich in fatty acids. These can enhance smoothness and softness when applied to the skin. Castor oil has a low comedogenic score. This means it is unlikely to clog pores in the skin, making it appropriate for use on sensitive skin.
Chamomilla Recutita
Chamomile (Matricaria recutita) is a flowering plant belonging to the daisy family.Chamomile is very effective for treating skin conditions, especially for comforting irritated skin. In our deodorant, the anti-inflammatory effect of its essential oil applied topically improves skin regeneration and helps regulate the natural sweating.
Aloe Barbadensis
Aloe Barbadensis, also known as Aloe Vera, is widely used in the cosmetic and beauty industry for its amazing healing and hydration properties. It contains antioxidants, enzymes, Vitamins A and C, and it is highly anti-inflammatory. In our deodorant, Aloe Vera softens and soothes your underarms.
Grapefruit Seed Extract
This potent and powerful ingredient is rich in essential oils and antioxidants and has a variety of potential health benefits. It contains powerful antimicrobials that help eliminate the cause of bad odour while keeping your skin healthy.

No more fearing toxic and dangerous chemicals in your deodorant. While most commercial deodorants are made with harmful ingredients, such as aluminium, parabens and other toxic metals that are known carcinogens and irritants to the skin, LOVETICA's natural deodorant delivers the solution you have been waiting for.
Our natural deodorant is clean and non-sticky that effectively delivers all-day long-lasting results. It is made with all-natural ingredients that eliminate odour-causing bacteria without blocking the body's natural perspiration function.
LOVETICA's natural deodorant supports the body's detoxification process while keeping you feeling fresh and odour-free.
This natural deodorant is not only natural and effective but it also delivers a luxurious pampering feeling to your skin.