LOVETICA'S NEWLY IMPROVED multi vitamin serum is now available in a sleek LEAK-PROOF 40 ML bottle with a new fresh honey & rose essential oil. Our NEW ANTIOXIDANT RICH FORMULA is packed with anti-aging properties for both women & men. Our multivitamin serum is enriched with Stay-C 50 which is the MOST STABLE & EFFECTIVE form of Vitamin C.
UNLIKE OTHER SERUMS THAT SIMPLY DON'T WORK and leave your skin worse than before application, OUR SERUM AIMS TO ELIMINATE DARK SPOTS & HYPERPIGMENTATION. This Vitamin C & Hyaluronic Acid serum is a rejuvenating essential to your daily routine as it perfects SKIN TONE, helps with EYE WRINKLES, forehead wrinkles and BOOSTS COLLAGEN production to give you a 24 hour RADIANT and ILLUMINATING GLOW.
KEY COMPLAINTS OF MOST SERUMS ON THE MARKET IS THEIR INEFFECTIVE FORMULA that does not provide results you have been hoping for. We listened to our customers and worked hard to improve our formula with a NEW honey & rose essential oil.  Lovetica is devoted to providing our customers only with the BEST QUALITY ingredients which are clinically tested to provide REAL & POWERFUL RESULTS.
WHY THIS SERUM IS GREAT: Lovetica's Multivitamin unique formula is designed to rejuvenate the skin and infuse it with powerful vitamins in order to accelerate collagen production and reduce wrinkles. The superstar ingredient – Hyaluronic acid secures moisture and creates fullness producing a natural youthful glow. The vitamins help with redness and dark spots, while seaweed provides regenerating and calming properties. 
100% SATISFACTION GUARANTEE: We are confident in the quality and results of our products, there is no secret here, we are transparent about our ingredients and manufacturing practices. Our products are non-toxic and cruelty free. We care about our customers and are devoted to providing an excellent service being available 24/7 to answer any questions or concerns you may have. However, if for any reason you are not satisfied, we will provide you with a refund.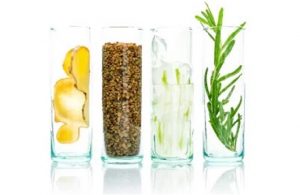 Vitamin C
Powerful antioxidant and free radical scavenger that will transform your complexion. It reduces skin blemishes and dark spots. It stimulates the production of collagen and increases skin firmness to fight the signs of aging. It is the ultimate dark spot remover and hyperpigmentation treatment.
Hyaluronic Acid
The ultimate skin moisturizer! Hyaluronic acid not only holds an impressive amount of moisture but it also replenishes the skin with antioxidant protection against environmental stressors. This superstar ingredient works extra hard to deliver supple, healthy-looking and less-lined skin eliminating wrinkles and dull complexion.
Vitamin B3
This essential vitamin aids with redness and flushing especially on sensitive skin. It inhibits the transfer of pigment to skin cells, minimizing dark spots. It also works hand in hand with Hyaluronic acid in water replenishment and collagen production. Vitamin B3 helps with the appearance of aging skin as it stimulates fibroblasts by 20% and collagen secretion by 54%. It helps to implement an evener skin tone and perfect skin complexion.
Seaweed Extract
This potent and powerful ingredient has the ability to restore and renew skin cells. Because it reinforces the cell membranes it, in turn, protects free radical attacks, which accelerate the ageing process. It is also a powerful fighter against pigmentation and is very calming on sensitive skin.

Enjoy all the benefits of this multivitamin serum that is 100% all natural, not tested on animals, Doctor trusted and made from high quality ingredients in Canada. We do not use any harsh chemicals, keeping our serum natural and perfect for sensitive skin. You no longer have to break the bank and spend money on a number of different serums that deliver little to no results. Find everything you are looking for in this one simple bottle, without the compromise or use of any harmful chemicals, you will achieve the results you have been looking for naturally.